Nitrous Oxide (N2O) also known as Laughing Gas
Madison Dental Art offers stress-free dentistry. Nitrous Oxide (N2O) is sedation for dental patients who have heightened anxiety when visiting the dentist. N2O is a non-allergenic, non-irritating gas that has no color or smell. By simply inhaling the Nitrous Oxide, patients with anxiety will relax and feel less discomfort. It is one of the safest forms of sedation available. Patients are able to safely drive themselves home or to work at the end of their appointment. Most patients begin to feel the N2O take effect within 3 – 5 minutes and following treatment, the effects of this gas are completely reversed within 3 – 5 minutes of discontinuing gas, by simply breathing normally.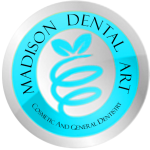 There are three kinds of sedation dentistry – IV, oral conscious and Nitrous Oxide (N2O). When patients chooses N2O sedation, the dentist will place a mask over their face and administer a non-allergenic, non-irritating gas that will place them in a state of relaxation that will allow them to feel calm and collected during the procedure. As sedation goes, this is one of the safest options available. The goal of N2O sedation is not to put people to sleep, but to allow them to have a more enjoyable experience at the dentist that will keep them from feeling pain and anxiety. Patients will still be able to respond to any requests the dentist, all while remaining comfortable.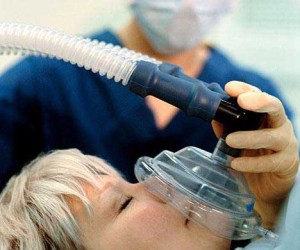 It is extremely easy to administer N2O. A dentist will simply tell patients to breathe normally into a mask, and then within three to five minutes they will be able to feel the effect. There might be some light-headedness or tingling when the gas is administered, but other than that there is little discomfort associated with this gas. In fact, many people report experiencing well-being, euphoria and/or floating.
The best part is the all a patient has to do is breathe normally following a procedure for the effect of N2O to wear off. This process just takes three to five minutes before a patient is feeling normal again. It's important for patients to feel comfortable to visit the dentist every six months. This is why people should look into all of the options our dentists offer that will allow them to have a comfortable experience during the procedure.